EVERY DAY JUNGLIST T-SHIRT ( BLACK INVERT )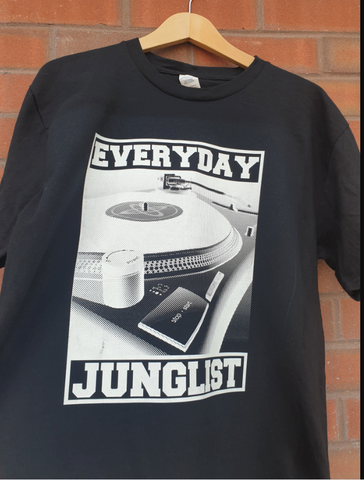 EVERY DAY JUNGLIST T-SHIRT ( BLACK INVERT )
Description:
Junglist Massive:
Everyday Junglist T-Shirt
Are you a dedicated junglist, living the jungle lifestyle every day? If so, then this T-shirt is designed just for you. Created by Bizzy B, the clothing line takes its inspiration from his iconic junglist anthem, "Everyday Junglist," featuring Marvelous Kane.
Limited Edition Design
Embrace this opportunity to own a piece of limited edition apparel.
Premium Quality Comfort
Experience the utmost comfort with this high-quality T-shirt. It boasts a luxurious softness that makes it a pleasure to wear.
Durable Permanent Print
The print on this T-shirt is designed to withstand time, ensuring it remains vibrant and intact even after multiple washes.
Brand New Condition
Rest assured, the T-shirt arrives in brand new condition, ready to become a staple in your wardrobe.
Size Guide
Small: Fits 36"-38" chest, 71 cm length, 22 cm sleeve, $2.70 - $2.80
Medium: Fits 39"-41" chest, 74 cm length, 22 cm sleeve, $2.75 - $2.85
Large: Fits 42"-44" chest, 76 cm length, 23 cm sleeve, $2.85 - $2.95
XL: Fits 46"-48" chest, 79 cm length, 23 cm sleeve, $2.95 - $3.05
XXL: Fits 50"-52" chest, 80 cm length, 23 cm sleeve, $3.05 - $3.15
Real Image
Please note that the image provided is an actual representation of the product, not a virtual image.