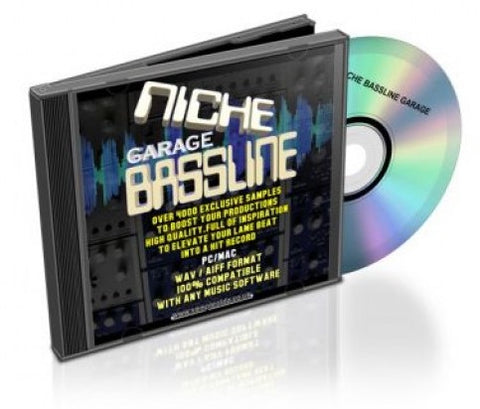 Niche Bass Garage Over 3000 Sounds
Description:
NICHE Bassline GARAGE over 3000 SOUNDS!
   BASSLINE SAMPLES
 GARAGE SAMPLE CD SET
 WE HAVE CREATED A TOTALY NEW 
MUSIC PRODUCTION LIBRARY
WITH A TOTAL OF VORE OVER 3000 SMAPLES SPREAD OVER 2 SAMPLE PACK DOWNLOADS
NICHE BASSLINE GARAGE SOUND SAMPLES! 
DARK PLANET II
 
 
  ESSENTIAL NICHE BASSLINE GARAGE DRUM LOOPS,
SOUNDS,FX,BASS SOUNDS AND LOOPS INCLUDING
AN AMAZING COLLECTION OF  NICHE BASSLINE ,LOOPS & SAMPLES
"A VERY HUGE SAMPLE AND  LOOP COLLECTION  "
OVER 100  NEW & ORIGINAL NICHE BASSLINE DRUM LOOPS
( ORIGINAL AND ROYALTY FREE )
PACKED WITH TONS OF SOUNDS AND SECRET ELEMENTS!!!!
INCLUDING :
DRUMS AND LOOPS
NICHE BASSLINE  STYLE SOUNDS + FX
DARK  ATMOSPHERIC PADS & SOUNDSCAPES
OVER 150 HEAVYWEIGHT BASS SOUNDS
RARE SYNTH SOUNDS
  SFX
AND MUCH MORE
IN .WAV/AIFF  FORMAT

THIS PACKAGE IS ONLY AVAILABLE FOR LIMITED TIME  ONLY
THIS AMAZING PACKAGE INCLUDES!!!
NICHE MEGGA BASS
OVER 150 HEAVYWEIGHT BASS SAMPLES!!!!
This  AWSOME  collection of over 150 BASS samples
is Dedicated to creating Professional NICHE BASSLINES
This BASSLINE  SAMPLE COLLECTION Contains
LOOPS AND STACKS OF BASS SOUNDS

 NICHE BEATS
ALL NEW NICHE BEATS AND DRUM LOOPS!!!!
WE HAVE RECORDED OVER 1500 PHAT NICH BASSLINE DRUM SAMPLES AND LOOPS
TO BRING YOU THIS WORLD EXCLUSIVE!!!
( All of these Sounds are in .wav format ready to load straight  into your sequencer )
Reason / Recycle /Logic Audio /Cubase sx / Sonar / Acid /Renoise.
 NICHE SOUND PACK
WE HAVE COMBINED OUR ALL NEW SOUNDS AND FX 
TO BRING YOU THIS PACK ON CD
 PLUS A FREE BONUS DVD  RRP 14.99
DARK PLANET VOL II
A COLLECTION OF OVER 3000 MEGGA SAMPLES IN TOTAL!
2500  DARK SYNTH SOUNDS AND FX
  The Demand  for our BASSLINE GARAGE  Style Sample CD Roms
 is growing and it is getting VERY hard to find exclusive sample DVD material like this:
HARD SYNTH SOUNDS
DARK ATMOSPHERES
SUBSONIC SYNTHS
WARM PADS
DARK SOUNDS
AND TONS MORE
---------------------------------------------------------
WARNING:
YOU CANNOT AFFORD TO MISS THIS!!!
----------------------------------------------------------
WILL WORK WITH ALL MUSIC SOFTWARE !!!!
 INCLUDING :
LOGIC, REASON, FRUITY LOOPS,
CUBASE ,REASON, CAKEWALK,SONAR, MCP,RENOISE
FOR USE IN
BASSLINE GARAGE
"A must for all Serious Producers / Engineers"
MAC/ PC FORMAT
 
Compatible with all music software inc:
Reason / Recycle /Logic Audio /Cubase sx / Sonar / Acid /Renoise

WAV / REX FORMAT 
PROFESSIONALLY RECORDED
HIGH QUALITY
PACKED WITH SOUNDS
ROYALTY FREE :EXCLUSIVE SOUNDS
And MUCH MUCH More! 
 SATISFACTION GUARANTEED
 If you are  you have a genuine reason that our product is not
Exactly as we describe it, please contact me and you will then be issued a full refund.
ANY QUESTIONS
EMAIL US: