100 SICK BASSLINE SOUNDS III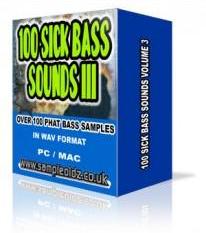 100 SICK BASSLINE SOUNDS III
Description:
100 SICK BASSLINE SOUNDS III
BASSLINE SAMPLE PACK!
100 SICK BASSLINE SOUNDS III 
Hear it is folks, Its big ,bad and Back again,
Another 100 MEGGA PHAT BASSLINE SAMPLES  
AS YOU ALREADY KNOW , THE REAL PHAT CLUB BASS SOUNDS ARE HARD TO FIND
THE STANDARD MODULE OR PLUG IN VST BASS SOUNDS JUST SIMPLY ARE NOT  PHAT ENOUGH
OUR DEDICATED BASS SOUND PACK PACK WILL TURN ANY LIGHTWEIGHT TUNE INTO A BASSLINE KILLER!
great for all styles of music that require BIG bass sounds
Including ,Dubstep,DnB, Bassline And more!
( All of these Bass Sounds are in .wav format ready to load straight  into your sequencer )
Reason / Recycle /Logic Audio /Cubase sx / Sonar / Acid /Renoise. 
NEW DIGITAL DOWNLOAD PRODUCT!
No Postage Needed!!:Once Purchased We Will Then send you a link to our server so you may download this Sample pack
( Broadband Connection Recommended ( AVERAGE DL TIME APPROX 20 MINUTES)
Specs

Format
.wav
Platform
Pc / Mac
Software

All including:

Cubase sx,Reason,Fruity Loops,Logic Pro

Style
 Big Bass Sounds 
ENDORSED BY BIZZY B