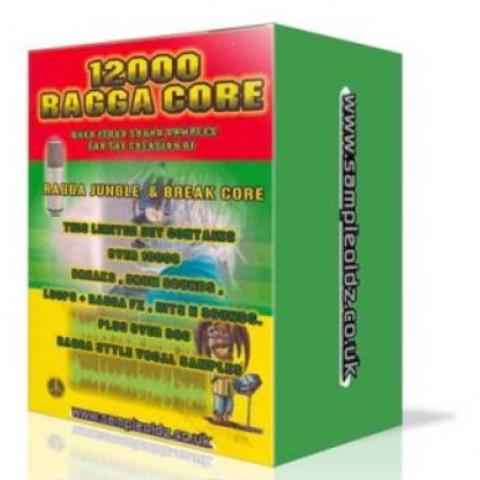 12000 RAGGA JUNGLE / BREAKCORE SAMPLES!!!
Description:
Introducing Our Brand-New Music Production Library
Explore a Rich Collection of Over 12,000 Ragga Jungle & Breakcore Sound Samples!
Discover 3 CDs & 1 DVD Packed with Essential Ragga Jungle / Breakcore Sound Samples, Including 800 Exclusive Vocal Samples and a Vast Array of Breakbeats, Loops & Samples.
This Comprehensive Collection Offers:
More than 12,000 Unique Sound Samples in Total
An Exclusive Sample Pack Package Unavailable Anywhere Else
Included in this Remarkable Offer:
Sample Pack / CD 1 - Megga Dnb Breaks: Dedicated to Crafting Professional DNB Rhythms Contains over 6,700 Samples including Break Beats, Loops, Drum Kits, Percussion & More.
Sample Pack / CD 2 - 2007 Series: Over 4,000 Ragga Jungle / Breakcore Sound Samples and FX Featuring Drums, Bass, FX, Horns, Exclusive Sound Elements, and Jungle Style Instruments.
Sample Pack / CD 3 - Royalty-Free Ragga Style Vocals: Over 800 High-Quality Ragga Style Vocals Recorded in-house Includes Shouts, Chats, Jingles, Hooks, and FX Idea Starters in .wav Format.
Sample Pack / CD 4 - Exclusive Bass Samples: Over 100 Bass Samples in WAV Format Taken from Our Popular Sample Pack.
All of Our CD/DVD ROMs Offer:
High-Quality Audio Sound Samples
Wide Compatibility with Software Sequencers like Reason, Recycle, Logic Audio, Cubase SX, Sonar, Acid, and Renoise.
Don't Miss Out on This Limited-Time Opportunity! This sample pack package brings you an unparalleled collection of Ragga Jungle & Breakcore samples. Perfect for adding depth and variety to your music production. Grab your copy now!