ALL JUNGLIST 500 SAMPLES PACK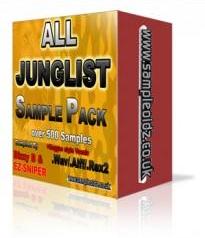 ALL JUNGLIST 500 SAMPLES PACK
Description:
All Junglist Sample Pack 
The All Junglist 500 Samples Pack gives you all the sounds you need to produce original jungle, drum, and bass beats.
This pack contains all manner of Breaks, rex loops, pads, drums, and bass samples all tailored for the real junglist sound. With a nice selection of classic breakbeats and old skool sounds this pack has it all!
Features: - Totalling 500 loops and samples optimized for jungle, drum & bass production - Includes classic breakbeats plus modern drum sounds in a variety of styles - Includes atmospheres, pads, stabs & percussion
Benefits: - Unlock your productions' potential by using professional quality loops & samples - Quickly and easily add that vintage junglist sound to any track - Save time when searching for the right sound with this comprehensive collection

Contains over 500 skool style
samples for the production of
Jungle & Hardcore
Breaks, Rex Loops, SFX, Ragga style Vocals, Drums, Bass samples and more
This pack is in
.wav /.Rex/.AIFF Format
For Pc and mac
all in .zip file format for easy download.