150 BOOSTED SUBZ BY ( BIZZY B )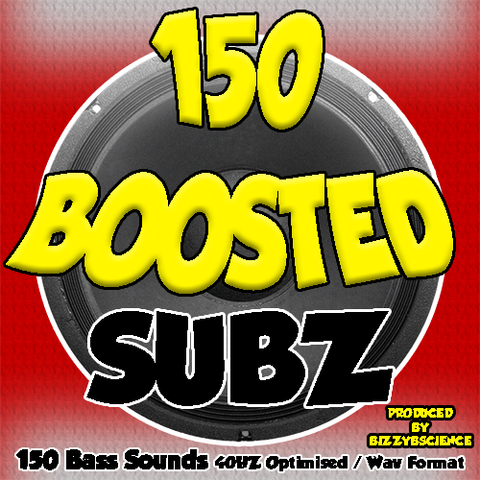 150 BOOSTED SUBZ BY ( BIZZY B )
Description:
150 Boosted Subz by ( Bizzy B )
HERE IS ANOTHER PHAT PRODUCER PACK
OVER 150 ENHANCED SUB BASS SAMPLES

THIS EXCLUSIVE PRODUCER PACK CONTAINS
OVER 150 
PROFESSIONALLY

 

RECORDED

 

DEEP BASS SOUND SAMPLES

 

BY BIZZY B
ONE OF THE ORIGINATORS OF JUNGLE / DRUM AND BASS
THE AMEN DARKSIDE CHOPPAGE REVIVAL PRODUCER SND SUB PAC FREAK BIZZY B!!
PERFECT FOR THE PRODUCTION OF
JUNGLE / CHOPPAGE / DRUM AND BASS / TRAP / NEW WAVE JUNGLE + BREAKCORE
Features
Over 150 Bass samples in .wav format
All compressed and processed to have that 40hz "punch"
All samples are in wav  format for easy Loading into your samplers
WILL WORK ON A MAC OR PC
WORKS ALL MUSIC SOFTWARE!
( IN WAV FORMAT!)
 
"THESE SOUNDS ARE SPECIALLY DESIGNED USING MY BASS CHAIR AND SUB PAC TO RATTLE CLUB SPEAKERS,   DON`T MISS OUT ON THIS DEAL!! "
jungle samples, jungle frenzy sample cd, jungle sample, jungle drum samples, jungle breaks samples, old school jungle samples, jungle samples free download, jungle sample pack, jungle terror samples, jungle, bass samples, ragga jungle sample pack