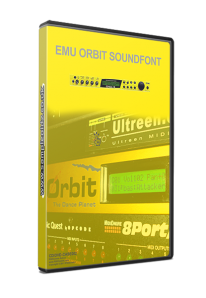 EMU ORBIT SOUNDFONTS -LOGIC PRO
Description:
Emu Orbit Soundfonts -Logic Pro
EMU ORBIT SOUND MODULE  SOUND BANKS  IN .SF2 FORMAT
A Nice collection Of Orbit Sounds.
Orbit V2 is the legendary sound module heard on countless dance/techno hits. Orbit V2 offers you a palette of 640 presets and the user-editable BEATS Mode, featuring hundreds of interactive groove possibilities. With these powerful features, MIDI synchronized LFOs and MIDIPatch Modulation System, Orbit V2 is a must-have for every dance/techno musician.
This Sample pack is a nice collection of these sounds. Works in Logic Pro and pro x a treat, Just copy into your Sampler Instruments folder and your good to go.
PERFECT FOR THE PRODUCTION OF ALL DANCE MUSIC WILL WORK WITH ALL SAMPLERS THAT ACCEPT .SF2 sf.2 format
* 107 Presets (12mb soundfont) of legendary dance/techno sounds * .SF2 FORMAT ( LOGIC EXS COMPATIBLE SIMPLY COPY INTO YOUR SAMPLER INSTRUMENTS FOLDER AND AWAY YOU GO!!! ) * PROFESSIONALLY RECORDED * HIGH QUALITY * PACKED WITH SOUNDS * ROYALTY FREE :EXCLUSIVE SOUNDS