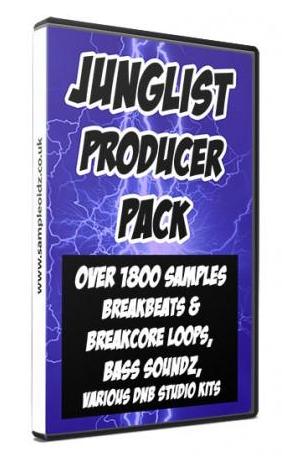 JUNGLIST PRODUCER PACK 1
Description:
Junglist Producer Pack 1
JUNGLE PRODUCER PACK 1
IS PACKED WITH OVER 1800 SAMPLES
FOR THE CREATION OF:
JUNGLE/DNB/OLD SKOOL
COMPILED WITH ALL THE ESSENTIAL ELEMENTS NEEDED TO MAKE JUNGLE /DNB
INCLUDING:
BREAKBEATS & BREAKCORE LOOPS, BASS SOUNDZ,
VARIOUS DNB STUDIO KITS
DIRTY SYNTHS + FX
ATMOSPHERIC TEXTURES
SECRET JUNGLE ELEMENTS
AND TONZ MORE STUFF TO TEAR THE ROOF OFF!!
WE HAVE SEEN OTHER SAMPLE CDS WITH NOT EVEN HALF AS MUCH SOUNDS AND BEATS SELLING FOR THREE TIMES MORE.
OUR CDS ARE GROWING A FAST REPUTATION AND DEMAND FOR THEIR CONTENT AND QUALITY OF SOUND
Contains Over 1800 PROFESSIONALLY RECORDED SOUNDS +LOOPS

"A MUST FOR ALL JUNGLIST PRODUCERS |"
DON'T MISS THIS CD, WE ARE THE ONLY PEOPLE SELLING IT AND THERE WILL ONLY BE A LIMITED AMOUNT RELEASED.
THIS CD IS AS RARE AS ROCKING HORSE DOWN!

ALSO PERFECT FOR ALL
RAGGA JUNGLE & BREAK CORE
CONTAINS:
OVER 1800 QUALITY SAMPLES IN .WAV FORMAT
"The Big Word On The Streets Is Here"