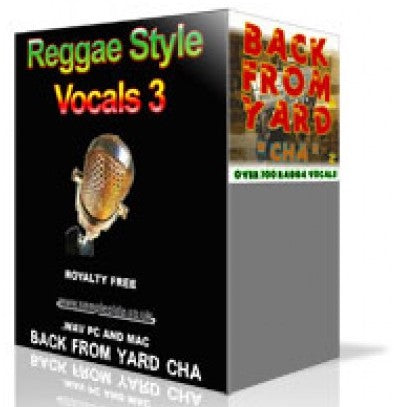 RAGGA JUNGLE VOCALS 3 -REGGAE STYLE SINGING VOCALS
Description:
Ragga Jungle Vocals 3 -Reggae Style Singing Vocals
REGGAE STYLE VOCALS 3
"BACK FROM YARD  CHA"

THE THIRD OF OUR 100 RAGGA VOCAL SERIES
 
OVER 100 ROYALTY FREE
 
REGGAE STYLE VOCALS
MORE PHRASES, SHOUTS, CHANTS  TOTALLY AIMED TO BE USED FOR JUNGLE/ DNB  TRACKS!!
 
TOTALLY  EXCLUSIVE and  UNHEARD Ragga Samples!
AND GUESS WHAT? THEY ARE ROYALTY FREE
THE THIRD OF ITS KIND ON THE PLANET!!!!!!
RARE Yardie Style Vocals!  
PERFORMED LIVE  In our studio Exclusively for this RARE SAMPLE COLLECTION.
WILL WORK WITH ALL MUSIC SOFTWARE !!!!
( IN WAV FORMAT!!!)
 
This IS not some download from LIMEWIRE or something , these are
REAL VOCALISTS
 DOWNLOAD THIS INSTANTLY NOW!!!