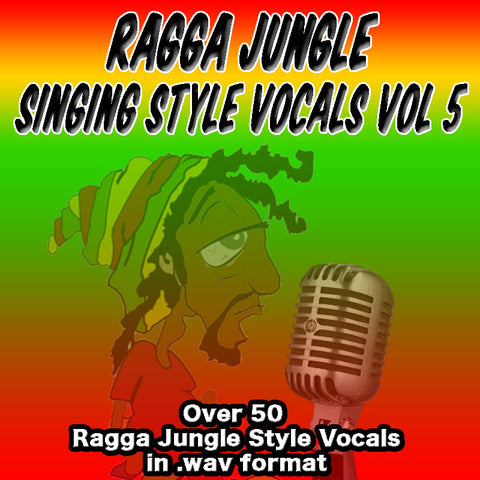 RAGGA JUNGLE VOCALS - SINGING STYLE VOL 5
Description:
Ragga Jungle Vocals - Singing Style VOL 5
 Download
ALL NEW 
  The Demand for our Ragga Junglist Style Singing Vocals is growing
50 Exclusive Royalty-free reggae-style vocals, Ragga Jungle Singing Style  Vocal Samples are totally new and exclusive
This pack has even more singing style samples and Jingle style Hooks
( All of these Vocals  are in .wav format ready to load straight  into your sequencer )
Reason / Recycle /Logic Audio /Cubase sx / Sonar / Acid /Renoise.
...Basically A Royalty-Free  Ragga Jungle Vocal Collection  
For You to release an Upfront JUNGLE/ DNB Track.
With KILLER SOUNDING VOCALS !!!.. As we do on a daily basis!!!
This library is now overlooked for commercial release by many big Companies
worldwide and the price is not official so Grab This Download now!!!!
NEW DIGITAL DOWNLOAD PRODUCT!
No Postage Needed!!:
DOWNLOAD LINK VIA EMAIL
ENDORSED BY BIZZY B
Select Download or CD ROM Version Below